Abby Grind
Not as steep as the famous Grouse Grind, the Abby grind is still indeed a steep hike that gains around 320 meters in 2km, and will end at a gorgeous scenic viewpoint that looks across south west Abbotsford. This 4km hike is a great workout and popular trail. This trail is rated as moderate as it does have some steep spots but it is also pet friendly as long as they're kept on leash.
Locations: Abbotsford Difficulty: Intermediate Time: 1.5 hours Round Trip: 4km Elevation Gain: 330m
Bosumarne Falls
A hidden gem! Located near Chilliwack Lake Road, this hiking trail is easy, almost flat 3km hike for all ages. With multiple waterfalls along the way and a stunning view at the end, this hike is a winner. The trail to the upper falls is a bit rough, so wear your hiking boots! Your ankles will thank you.
Locations: Chilliwack Difficulty: Easy Time: 1 hour Round Trip: 3km Elevation Gain: 75m
Cascade Falls
Located 30 minutes from the heart of Mission, this hike will be one to remember. With it being a short hike at only .75 km, it's the perfect trail for all ages. Once you arrive at the top you are greeted with a stunning waterfall, which plummets 30 meters into and emerald pool. To top it all off there is a suspension bridge you can walk across, if you're brave enough, giving you that jaw dropping view.
Locations: Mission Difficulty: Easy Time: .5 hours Round Trip: .75km Elevation Gain: 40m
Mount Cheam
The best views in the Fraser Valley! The trail to the peak is not difficult so it's great for all ages and beginner hikers. Mount Cheam peak offers a 360 degree panoramic view from Chilliwack and communities along the Fraser River, Jones Lake, surrounding peaks and Mount Baker. With a 9.5km round trip this hike would be perfect at sunrise or sunset.
Locations: Chilliwack Difficulty: Intermediate Time: 4.5 hours Round Trip: 9.5km Elevation Gain: 700m
Othello Tunnels
History and a hike all in one. This trail offers stunning views of the Coquihalla River, and the old tunnels are a perfect way to learn a bit about the area and how the track was built. The walking loop is 5.5km and rated as easy. When you walk through the flats and the four tunnels you will see stunning views of the canyon and bridges where the Coquihalla River rages through the canyon below. Once you get to the end of the fourth tunnel you have the option to turn around and return to the parking lot or continue on the hike into Hope.
Locations: Hope Difficulty: Easy Time: 1 hour Round Trip: 3.5km Elevation Gain: Minimal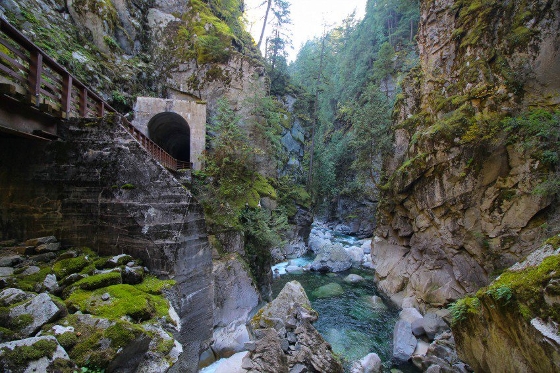 Lindeman Lake
This is a terrific day hike location! A quiet scenic hike in Chilliwack Provincial Park. A short hike at 3.4 km but well worth it. If you're looking for a more intense hike, it does push on adding another 6km on to it for the more experienced hiker. This hike will take you deep in the forest, and over small bridges. You will be greeted with the beautiful turquoise Lindeman Lake, surrounded by dense forest and mountain peaks. The lake will look extremely inviting for a quick dip after your hike, but be warned its freezing cold year round.
Locations: Chilliwack Difficulty: Intermediate Time: 2 hours Round Trip: 3.4km Elevation Gain: 300m